Team
You can do everything with the right team!
The idea to make parties in the most exclusive localities which the world has to provide has already become reality and to ensure the high expectations our team travels with us. At Castle Events we wish you a memorable stay and are always open to suggestions and endeavor to fulfill all your wishes! Discreet long-time team members are committed to discretion and used to the crackling atmosphere of the events, they form an important part of our success and are dedicated to the organization, reception, bar, service, DJ, wardrobe and security of all guest´s. The dedicated team helps to ensure that all guests can enjoy an anonymous and suitable stay.
Event Team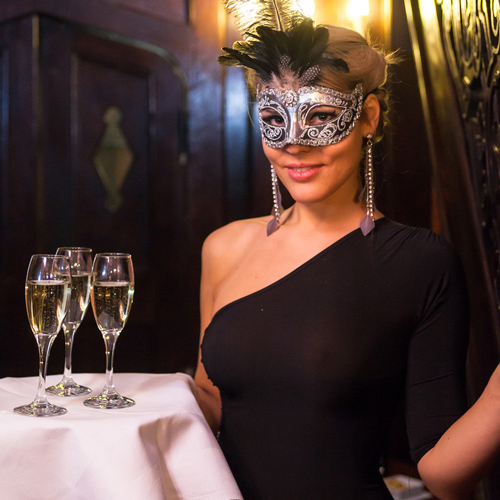 Welcome-Team
What would be a party without the appropriate staff, which responds to the needs and wishes of the visitors? We believe that a well-rehearsed team is indispensable for such a thrilling event! That's why our event team travels to every single event. In order to give our guests an unforgettable experience, every single member of the team has his own task.
The security team
First, there's our security team. The Castle Events should be remembered as a special experience, which is why we attach great importance to the safety of our guests. That's why the security team takes care of the guests right from the beginning, paying particular attention to the well-being of our female visitors.
The reception team
On arrival, guests are welcomed by our welcome team with a drink. The staff will take off your jackets and luggage and offer a selection of Venetian masks and capes. The highly discreet, secretive reception team looks after our guests throughout the stay and is always on hand to answer any questions or ambiguities.
The music team
In order to be able to combine classic and modern music, the Castle Events music team is divided into two different classes. While the live musicians take our guests on ceremonial occasions and at dinner into the mystical and, above all, classical setting, our top DJs join in the parties. Here we value as much variety as possible for our international audience.
The show team
Of course, the associated artists are also part of a good musical entertainment in order to lighten up the event. Caste Events offers its guests an extensive entertainment program with numerous artists such as burlesque artists, dancers and even Feuerschlucker appear. Let yourself be surprised and enchanted by the rich program.
The bar team
A regular drink supply is provided by our bar team. This relaxes the atmosphere and makes it easier to talk to other guests. Visitors can choose between basic and premium beverage packages, with the latter offering a selection of high-quality champagne. The distinction is made on the basis of different bracelets, which are awarded in the choice of the respective package.